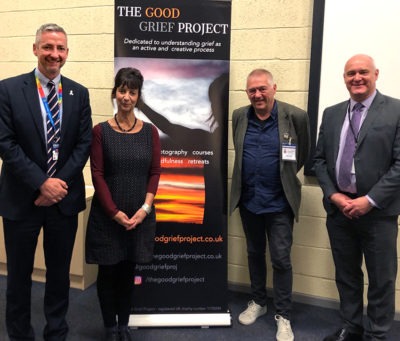 Our lovely friends Jimmy Edmonds and Jane Harris are going from strength to strength with their inspiring Good Grief project.
Jimmy and Jane have produced a film A Love That Never Dies to help share experiences of what it is to lose a child.
At their recent screening of the film in Preston, they had Head of Serious Crime in Lancashire, Andrew Webster, open the screening, marking the importance of police officers understanding better the impact of bereavement.
The film was being shown to Family Liaison Officers to help them appreciate the impact on a family of a child or sibling's death.

Jane and Jimmy had their own experience of the tough role the police play. When their son Josh was killed in a motorbike accident in Vietnam, it was two very young police officers who had to knock on their door to break the news.
Jane said: "They probably had no idea that breaking such bad news was going to be in the list of things lined up for their day's work. They performed this unenviable task perfectly well, straightforwardly and with no beating about the bush. Totally traumatised as we were, with our minds blasted into an immense blankness, any sense of who these messengers were as human beings will have evaded us. We never found out their names, we have not seen them since and we will now never know how they themselves may have been affected by being the bearers of such awful news. Equally they will have no understanding of the lasting significance that moment has had for us. We are complicit as authors of this new chapter in our lives yet we remain strangers."
The challenging task of Family Liaison Officers is to develop a two-way relationship with the bereaved following an untimely, unnatural or suspicious death. They are there to keep the family informed about the progress of any investigation and to provide support as they encounter the various legal procedures, inquest, court cases etc. Not an easy job as they balance compassion, understanding and sensitivity with their primary role as members of an investigative team.
Watching this moving yet pragmatic film no doubt helped them get a better understanding of the reality for the families who've experience such a trauma.
Jane told us, "Breaking the news marks the start of a long journey and can never be forgotten, it can never be unknown. Like a stone wedged in the branches of a young sapling – it's the hardest of truths that is forever trapped in time as the tree of grief grows around it."
Check out The Good Grief Project for news of film screenings, book one for your group and catch up with other projects Jane and Jimmy are progressing.