MSPs in the Scottish Parliament yesterday (27 May 2015) debated and rejected the Assisted Suicide Bill for Scotland by 82 votes to 36.
Shame. The Bill would have offered people with terminal illness control at the end – the ability to get the help of a doctor to end their life. Assisted dying is legal in Luxembourg, the Netherlands and Belgium as well as Switzerland and several US States.
Scottish government ministers were given a free vote "according to their conscience". See how yours voted below. (Can't wait for someone to do a bit of analysis by gender, area, age, party… I just don't have the time!)
Margo MacDonald, Independent MSP originally championed the Assisted Suicide Bill. Margo died in 2014. She had Parkinson's.
Green MSP Patrick Harvie promised Margo he'd take on the challenge – it's such a thorny and empassioned area.
A Committee of Parliament recently discussed the Bill and felt it was flawed, opposing its principles. It was passed to the full Parliament for the vote. They've thrown our the Bill, so no change to law at the moment.
The politicians are way behind public view. Around 80% of people support this change.
The language doesn't help. For example, Shona Robinson, Scottish health secretary is quoted as saying: "The government believes that the current law is clear, and it is not lawful to assist someone to commit suicide, and the government has no plans to change that."
I've highlighted 'commit suicide'. This is old language. Suicide is no longer a crime, so people 'complete suicide' – they're not committing an offence. But just using this language immediately connects our thinking to crime.
We need to adopt the rest of the UK's language – Assisted Dying. Much better.
 Dignity in Dying's A Matter of Facts publication helps clear up a lot of the misconceptions.
See a report from the BBC on who said what in the debate and the current legal position of Assisted Dying in the UK and beyond.
Part of the problem is that people in the medical profession seem to think death is a medical failure and so don't want to be part of that. Catch on!
As Liberal Democrat MSP Liam McArthur said, growing numbers of people in Scotland have reached their decision to support this change based on direct experience of what has happened to a family member or good friend: "The right to life is not the same as a duty to live. This is about providing dignity, respect and choice at the end of life."
Campaigners My Life, My Death, My Choice had gathered outside the Scottish Parliament to urge MSPs to support the Bill. Contact them to support the campaign.
See a report on the debate.
FOR the Assisted Suicide Bill:
George Adam (Paisley) (SNP)
Jayne Baxter (Mid Scotland and Fife) (Lab)
Claudia Beamish(South Scotland) (Lab)
Colin Beattie (Midlothian North and Musselburgh) (SNP)
Marco Biagi (Edinburgh Central) (SNP)
Roderick Campbell (North East Fife) (SNP)
Jackson Carlaw (West Scotland) (Con)
Graeme Dey (Angus South) (SNP)
James Dornan(Glasgow Cathcart) (SNP)
Jim Eadie (Edinburgh Southern) (SNP)
Mary Fee (West Scotland) (Lab)
John Finnie (Highlands and Islands) (Ind)
Joe FitzPatrick (Dundee City West) (SNP)
Kenneth Gibson (Cunninghame North) (SNP)
Rob Gibson (Caithness, Sutherland and Ross) (SNP)
Christine Grahame (Midlothian South, Tweeddale and Lauderdale) (SNP)
Patrick Harvie (Glasgow) (Green)
Cara Hilton (Dunfermline) (Lab)
Jim Hume (South Scotland) (LD)
Alison Johnstone (Lothian) (Green)
Colin Keir (Edinburgh Western) (SNP)
Bill Kidd (Glasgow Anniesland) (SNP)
Richard Lochhead (Moray) (SNP)
Angus MacDonald (Falkirk East) (SNP)
Gordon MacDonald (Edinburgh Pentlands) (SNP)
Mike MacKenzie (Highlands and Islands) (SNP)
Stewart Maxwell(West Scotland) (SNP)
Liam McArthur (Orkney Islands) (LD)
Mark McDonald (Aberdeen Donside) (SNP)
Fiona McLeod (Strathkelvin and Bearsden) (SNP)
Elaine Murray (Dumfriesshire) (Lab)
Tavish Scott (Shetland Islands) (LD)
Kevin Stewart (Aberdeen Central) (SNP)
David Torrance (Kirkcaldy) (SNP)
Jean Urquhart (Highlands and Islands) (Ind)
John Wilson (Central Scotland) (Ind)

Against the Assisted Suicide Bill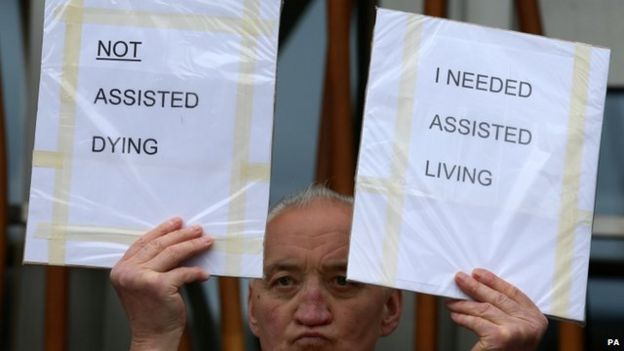 Clare Adamson (Central Scotland) (SNP)
Alasdair Allan (Na h-Eileanan an Iar) (SNP)
Christian Allard (North East Scotland) (SNP)
Jackie Baillie (Dumbarton) (Lab)
Claire Baker (Mid Scotland and Fife) (Lab)
Richard Baker (North East Scotland) (Lab)
Neil Bibby (West Scotland) (Lab)
Sarah Boyack (Lothian) (Lab)
Chic Brodie (South Scotland) (SNP)
Gavin Brown (Lothian) (Con)
Keith Brown (Clackmannanshire and Dunblane) (SNP)
Cameron Buchanan (Lothian) (Con)
Margaret Burgess (Cunninghame South) (SNP)
Malcolm Chisholm (Edinburgh Northern and Leith) (Lab)
Willie Coffey (Kilmarnock and Irvine Valley) (SNP)
Angela Constance (Almond Valley) (SNP)
Bruce Crawford (Stirling) (SNP)
Roseanna Cunningham (Perthshire South and Kinross-shire) (SNP)
Ruth Davidson (Glasgow) (Con)
Nigel Don (Angus North and Mearns) (SNP)
Bob Doris (Glasgow) (SNP)
Kezia Dugdale (Lothian) (Lab)
Annabelle Ewing (Mid Scotland and Fife) (SNP)
Fergus Ewing (Inverness and Nairn) (SNP)
Linda Fabiani (East Kilbride) (SNP)
Alex Fergusson (Galloway and West Dumfries) (Con)
Neil Findlay (Lothian) (Lab)
Murdo Fraser (Mid Scotland and Fife) (Con)
Annabel Goldie (West Scotland) (Con)
Rhoda Grant (Highlands and Islands) (Lab)
Iain Gray (East Lothian) (Lab)
Mark Griffin (Central Scotland) (Lab)
Hugh Henry (Renfrewshire South) (Lab)
Jamie Hepburn (Cumbernauld and Kilsyth) (SNP)
Fiona Hyslop (Linlithgow) (SNP)
Adam Ingram (Carrick, Cumnock and Doon Valley) (SNP)
Alex Johnstone (North East Scotland) (Con)
James Kelly (Rutherglen) (Lab)
Johann Lamont (Glasgow Pollok) (Lab)
John Lamont (Ettrick, Roxburgh and Berwickshire) (Con)
Richard Lyle (Central Scotland) (SNP)
Kenny MacAskill (Edinburgh Eastern) (SNP)
Lewis Macdonald (North East Scotland) (Lab)
Ken Macintosh (Eastwood) (Lab)
Hanzala Malik (Glasgow) (Lab)
Jenny Marra (North East Scotland) (Lab)
Paul Martin (Glasgow Provan) (Lab)
John Mason (Glasgow Shettleston) (SNP)
Michael Matheson (Falkirk West) (SNP)
Margaret McCulloch (Central Scotland) (Lab)
Margaret McDougall (West Scotland) (Lab)
Jamie McGrigor (Highlands and Islands) (Con)
Alison McInnes (North East Scotland) (LD)
Christina McKelvie (Hamilton, Larkhall and Stonehouse) (SNP)
Aileen McLeod(South Scotland) (SNP)
Michael McMahon (Uddingston and Bellshill) (Lab)
Siobhan McMahon (Central Scotland) (Lab)
Stuart McMillan (West Scotland) (SNP)
Duncan McNeil (Greenock and Inverclyde) (Lab)
Nanette Milne (North East Scotland) (Con)
Paterson, Gil (Clydebank and Milngavie) (SNP)
Graeme Pearson (South Scotland) (Lab)
John Pentland (Motherwell and Wishaw) (Lab)
Willie Rennie (Mid Scotland and Fife) (LD)
Dennis Robertson (Aberdeenshire West) (SNP)
Robison, Shona (Dundee City East) (SNP)
Rowley, Alex (Cowdenbeath) (Lab)
Michael Russell (Argyll and Bute) (SNP)
Mary Scanlon (Highlands and Islands) (Con)
John Scott (Ayr) (Con)
Dr Richard Simpson (Mid Scotland and Fife) (Lab)
Drew Smith (Glasgow) (Lab)
Elaine Smith (Coatbridge and Chryston) (Lab)
Liz Smith (Mid Scotland and Fife) (Con)
Stewart Stevenson (Banffshire and Buchan Coast) (SNP)
David Stewart (Highlands and Islands) (Lab)
Nicola Sturgeon (Glasgow Southside) (SNP)
John Swinney (Perthshire North) (SNP)
Dave Thompson (Skye, Lochaber and Badenoch) (SNP)
Maureen Watt (Aberdeen South and North Kincardine) (SNP)
Paul Wheelhouse (South Scotland) (SNP)
Humza Yousaf (Glasgow) (SNP)